THE BEST TORONTO FASHION BLOGS – PART II
ANOTHER FASHION ROUND UP!
The Best Toronto Fashion Blogs: The Personal Touch
Today we continue our round up of some of the best blogs to follow if you're interested in style and fashion. In our last post we explored some of the major sources for fashion news and inspiration in Toronto, but this time we'll be taking a different direction and highlighting some of our favourite individual bloggers on the Toronto scene. These more personal blogs detail the lives of some of our most glamorous neighbours, and some of our more down-to-earth but still style-savvy hometown girls. Their writing is every bit as much of an inspiration as the heavyweight blogs we looked at previously, but with a far more intimate feeling. It's almost like having a group of incredibly stylish friends telling you stories and sharing photos of what they've been up to! We hope you enjoy these blogs as much as we do, and keep your eyes peeled for future round ups and spotlights of stylish Toronto bloggers!
Style Blog by Nelia Belkova – http://styleblog.ca/
This fantastic personal blog focuses on the author's twin passions: travel and fashion. Nelia has lived an interesting life, moving from Texas to NYC and finally settling here in Toronto as a member of Yorkdale Shopping Centre's Style Council. Style Blog began by documenting street style, but has since evolved into a biographical blog capturing the stylish life of its author. The posts are full of inspiration for daily outfits, beauty routines, and vacations. It also covers local fashion events and has a strong focus on Canadian content, which is refreshing to see when so many blogs are so internationally concerned. She has put together lookbooks and regularly holds giveaways for readers. Definitely recommended reading!
jetset Justine – http://jetsetjustine.com/
This blog chronicles the travels and style of Justine Iaboni, the Features Director ofKENTON Magazineand one-half of Style Together. With its simple layout and gorgeous photography, this blog almost reads like a glossy magazine. Her style is eminently wearable and super inspirational for any professional woman who is interested in looking current while still keeping things clean and sharp. With her fantastic profiles of other trend-setting style makers, beauty recommendations, and travel suggestions, you're going to want to keep on top of this incredibly fashionable woman!
Gracie Carroll – http://graciecarroll.com/
Born and raised here in Hogtown, Gracie represents a whole demographic of young women breaking into the fashion industry. Her blog is simply fun — with writing on fashion, beauty, culture, and lifestyle, her many recommendations will give you plenty of new things to check out locally. She's been passionate about clothes and design since her early years: wishing to be a supermodel as a child and then got into retail and internships in industry as a young teen. Her experience goes beyond what you would expect for her years, with clever writing and displaying firsthand knowledge of the industry from London to New York. This is her third blog, so she knows exactly how to keep readers coming back, and in addition to her personal writing, she also contributes to a number of publications including ELLE magazine, FILLERmagazine, and Plaid Mag. Gracie certainly has her finger on the pulse of style in this city, and will keep you up to date on local events in addition to providing inspirational posts on styling yourself and perfecting makeup looks. We think you'll like her as much as we do, so be sure to check out the blog!
Jay Strut – http://www.jaystrut.com/
Our blog lists have been heavily dominated by the ladies so far, but if you have an eye for mens fashion, you need to check out Jay Strut, a very fascinating Toronto-based blogger. Writing about fashion, tech, and music, this blog is a little different from the average style blog, but is very readable and full of inspiring outfits, reviews of runway shows and collections, personal accounts of industry events. A favourite among the designer crowd, Jay interviews the likes of Michael Kors and Donatella Versace. This is one guy to keep an eye on!
Coco & Cowe – http://cocoandcowe.com/blog/
Although this blog is actually written by a number of contributors in addition to its creator, Catriona, it keeps the personal feel of a small blog, and has been posting inspirational articles since 2008. Focusing on fashion, design, beauty, travel, and positive living, this blog will bring a smile to your face, guaranteed. With their mission statement being to create an escapist wonderland for both readers and writers, Coco & Cowe brings the rose-tinted glasses that can sometimes be so useful in Toronto, especially in the cold winter months! They've also branched out into video blogging for even more fashionable goodness on location at hotels, events, and destinations all over. Not to mention the fantastic recipes and quick and easy food ideas that get posted regularly — it's simply scrumptious. And if you're planning a trip, check out their City Guides, for style-conscious travellers looking to get the most out of their travels. There's something for everyone and this blog is a simply fantastic resource.
I'm Charming You – http://www.imcharmingyou.com/
The blog of a fairly recent arrival to our city, I'm Charming You certainly lives up to its name. It's a collection of writing on culture, style, events, social media, tech, and business, aimed at all you professional women out there! With mentions by countless fashionable publications, you're sure to be charmed, too. With guides to throwing successful events, giveaways, and reviews of everything from shoes to sex toys, this blog caters to all of us modern women. She doesn't shy away from any topics or coming across too seriously, either — among so many frivolous fashion blogs, it's a breath of fresh air to see someone tackle an opinion piece the right way and occasionally add some food for thought to our reading lists rather than just fluff pieces. Maybe not to everyone's taste, but we like to see more smart, stylish ladies showing their stuff!
I Want, I Got – http://iwantigot.geekigirl.com/
Speaking of smart, interesting women: Anita Clarke, one of the first and most prominent online fashion writers in Toronto, has brought her direct, no-BS perspective to our blog feeds since 2005. An erstwhile writer for blogTO, she has also been published in Variety Magazine and on the web at Gloss Magazine, TVO's The Agenda, andChick Advisor. Now Magazine named Anita a Toronto Fashion Hero in October 2009, and she was also listed as one of Toronto's most stylish by The Toronto Star in 2011. Her blog is about shopping and fashion in Toronto, and provides product reviews, answers reader questions, publicizes sample sales and warehouse clearouts (great places to score unique fashion finds!), reviews runway shows, and will keep you up to date on the local fashion scene's news and events. With her imagery-filled posts, you'll have plenty of eye candy while reading clever commentary, and appreciate this hidden gem of a blog.
Kendall Donaldson – http://kendalldonaldson.ca/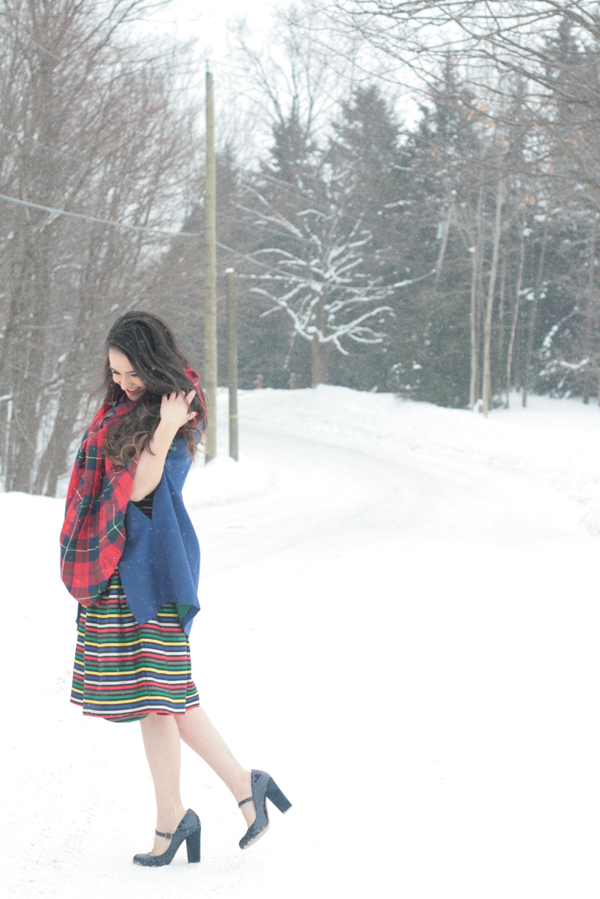 This beautifully designed, minimalistic blog almost disguises the huge fashion punch it packs. Kendall is a girl after our own hearts: mixing designer duds with vintage finds from her grandma's closet. She's been listed as one of the Top 15 fashion bloggers in Canada, and has represented MasterCard during Fashion Week through the STYLICITY program. She covers numerous fashion events both locally and further afield, posts fantastic and very wearable outfits every Thursday, and just generally captivates us with a huge archive of posts going back to 2010. Although she hasn't posted much in recent months, it's still worth taking a look through her blog for timeless inspiration.
Well, that's it for the second part of our fashion blog round up! Keep your eye on this blog too, as we bring out even more new content and useful articles. Stay stylish, Toronto!