Aside from my writing, marketing, and project management work, I'm also a professional event organizer and dance instructor of 18+ years. I'm a Lindy Hopper (swing dancer) and love all things swing including the fashion and culture.
For my dance website, please visit: dance.mandigould.com. To visit my personal site, please visit personal.mandigould.com, and for my health and lifestyle site, please visit greensmoothiesandjuice.com.
Mandi's Dance Bio: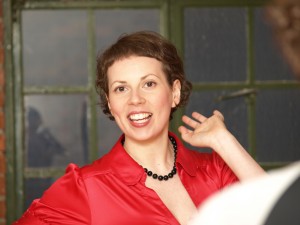 Mandi Gould has been passionate about Lindy Hop since she first lay eyes on the dance in 1998. Assisting legendary swing dancer Frankie Manning with workshops in 2002, 2006 and 2008 proved to be a life-changing experience for Mandi. Following Frankie's example, she is dedicated to spreading the spirit of Lindy Hop as a joyful, inclusive and welcoming dance. Mandi feels strongly that there is no such thing as two left feet, that it's never too late to learn, and that Lindy Hop is a dance for real people from all walks of life.
Mandi Gould is the founder of Bees' Knees Dance in Toronto, having just recently retired from the position of Director and Head Dance Instructor after 16 years. Her dance instruction has taken her across Canada and around the world, in the United States, Switzerland, Sweden, Russia, China, and South Korea. In 2002 she directed her swing missionary efforts in Saint Petersburg and Moscow where the helped to push the Russian Lindy Hop communities forward. In 2003 she managed two North American tours for the Harlem Hotshots on the West Coast and in the North East. From 2002 to 2004 she assisted as an administrator for the Herräng Dance Camp, was Herräng's original DJ Coordinator, organized the Swing Bus in 2004, as well as extensive event organizing for the Toronto Lindy Hop community. Most recently, Mandi was the Overall Producer for the largest swing dance festival of all time, Frankie 100 – the Frankie Manning Centennial & World Lindy Hop Day – in New York City in May 2014.